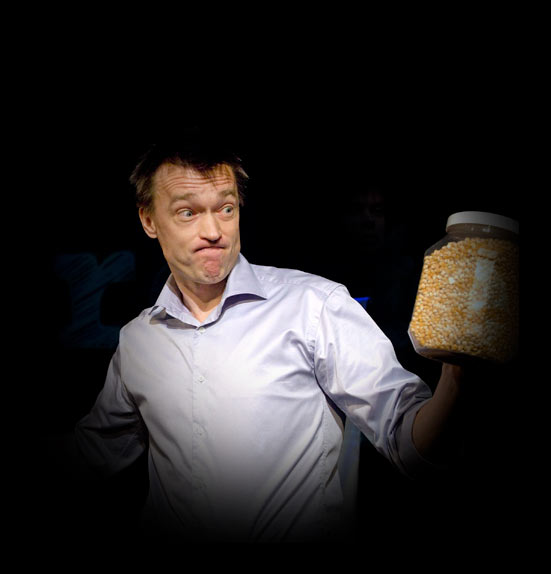 WHS esittää: Brunssi ja Magic!
Tervetuloa sunnuntaina 22.4.2012 klo 13 WHS:n studiolle (Tähtitorninkatu 10-12) nauttimaan virvokkeita, pikkusärvintä ja taikuutta.
Iltapäivän taikuudesta vastaa taikuri Robert Jägerhorn, joka esittää uuden versionsa esityksestään Magic!
Tämä kiitetty ja palkittu esitys sai ensi-iltansa Helsingin Kaupunginteatterissa marraskuussa 2009, ja nyt WHS studiolla esitys nähdään ensi kerran englanninkielisenä.
Tervetuloa siis esityksen uuden version ensimmäiseksi koeyleisöksi ja viihtymään leppoisissa sunnuntaitunnelmissa!
Sisäänpääsy on maksuton, mutta toivomme ystävällisesti ennakkoilmoittautumista osoitteeseen: info@w-h-s.fi
Esitys on osa WHS studion work in progress esitysten sarjaa. Katso video edelliseltä kerralta.
Ohjaaja: Neil Hardwick
Esiintyjä: Robert Jägerhorn
Konsepti ja käsikirjoitus: Neil Hardwick ja Robert Jägerhorn
Kesto: 70 min.
Esiintymiskieli: englanti
Welcome on Sunday 22nd of April to WHS studio (Tähtitorninkatu 10-12) at 1pm. We will offer an afternoon of drinks, snacks and Magic!
The magician of the afternoon will be Robert Jägerhorn who will present his new version of his show Magic!
This critically acclaimed show had it's premiere in 2009 in the Helsinki city theatre, and now it's the first time it's been done in english.
So welcome to be the test audience for the new version and to enjoy cosy and fun sunday afternoon.
The entrance is free, but we kindly ask for reservation.
So please send your name and number of tickets you need to: info@w-h-s.fi
The show is part of series of works in progress performances at WHS studio. Video from previous event can be seen here.
Director: Neil Hardwick
Performer: Robert Jägerhorn
Concept and manuscript: Neil Hardwick and Robert Jägerhorn
Duration: 70 min.
Language: English
« Back to newests posts