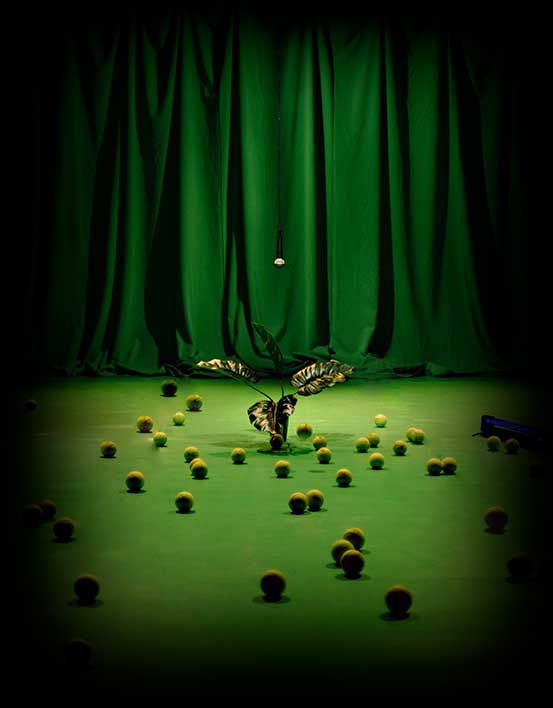 The Green
In the medieval theatre actors slang the acting area, the stage was referred to as The Green, as it was often covered in grass. Hence we have the still popular term Green Room, referring to the room closest to the stage.
The Green is a solo stage performance by Kalle Nio. Visual theatre that uses stage magic, video projections and surround sound as its means of expression. 
The thematic core for The Green forms from hauntology, spirituality in the act of consuming and the unboxing videos of Youtube. The Green sees shopping and commerce as the modern day spiritual and magical ritual as the shopping mall replaces the palace of worship. The Green is a show without words. It's a visual theatre performance that mixes elements from puppetry, video projections and visual arts and combines them with the methods coming from 19th century stage magic. The Green tries to find new ways to use magic as an expressive element, but at the same time it stretches and questions the definition of magic and asks what is magic anyway? In addition to the classic methods and secrets of theatrical magic, it sees the suggestive and magical light, scent and sonic interior design of modern shopping malls as magical.
Premiere 2019

The work of visual artist, magician and stage director Kalle Nio is a combination of magic, visual arts, cinema, art-history, circus and theatre. In his stage performances and cinematic installations, he is an inventor, performer and a researcher creating encounters between past and the present, between magic and visual arts, between the high arts and the sideshows, between craft and technology, between real and illusions.
He often uses elements from 19th century stage magic as the starting point for his highly visual explorations of human body and human relationships in our society.
Premiere 2019
Duration 1h
Stage: minumum 9m x 9m
Height: minimum 4m
Performers: 1
People on tour: 3
Production: WHS / Teatteri Union
Co-production: São Luiz Teatro Municipal, Lisbon
With support of: Silence Festival, Samuel Huber Art Foundation, Arts Promotion Centre Finland
Currently looking for co-producers and residencies.