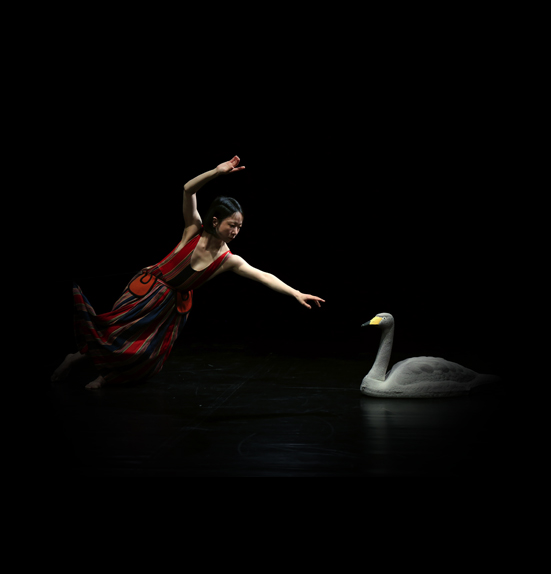 Swan of Tuonela
Premiere 26.9.2015 at Verkatehdas, Hämeenlinna, Finland
Dance and circus performace with contemporary versions of Jean Sibelius' music
Hands lift skirts up from the black waters of Tuonela, land of the dead. Back arches in a balance defying outreach towards the underworld. Dark figures surround the wanderer on the brinks of Tuonela river.
A folklore hero hunts for a plastic swan, and a fairytale bride pole dances in the mast of her worn down vessel. Mythic past from Finnish Kalevala folk stories is bent to new angles. The performance sails from dramatic to ridiculous. It brings the Swan of Tuonela to international waters, to collision points between contemporary border zones and and classical art.
This international collaboration reinterprets the Swan of Tuonela by Jean Sibelius as a stage performance. New music composed for the performance is in dialogue with Sibelius' symphonic Lemminkäinen Suite and his piano, violin and cello music.
The renowned Korean choreographer Sungsoo Ahn and Finnish circus pioneer Ville Walo get hold of Sibelius' composition together with three exceptional musicians. In the hands of these five artists the Swan of Tuonela gets reconnected with contemporary reality by means of inventive remixing, surrealistic acrobatics and fans that flutter as a swan.
Choreography: Sungsoo Ahn
Direction: Ville Walo
Performers: Ville Walo, Noora Juppi, Juhee Lee, Hyun Kim, Jeeyeun Kim, Heehwon Yang, Hauschka, Samuli Kosminen & Markus Hohti
Sound design: Heikki Iso-Ahola
Music composition: Jean Sibelius, Samuli Kosminen, Hauschka & Markus Hohti
Lighting: Jere Mönkkönen
Projection design: Matti Niinimäki
Sets & costumes: Anne Jämsä
Production: WHS & Sungsoo Ahn Pick-up Group
Co-production: Verkatehdas & Seoul Arts Center