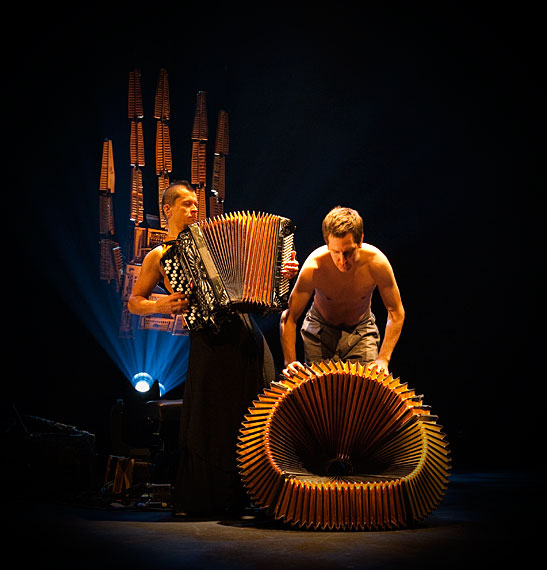 Rautakeuhko
/

Iron Lung

Rautakeuhko is a concert performance of contemporary circus & music. It is an intensive duet between two artists, in which the creative energies of accordionist / composer Kimmo Pohjonen and juggler Ville Walo encounter on stage.

A collection of old broken accordion bellows, found and saved by Pohjonen, are seen in the set of the performance and as the juggling props. The collection of bellows was found in the property left behind by a retired accordion repairer, piled up in the rear corner of a shed in Salla, in Northern Finland, where part of the bellows collection had already been used to replace firewood. Now the saved bellows have a new life as a part of this artwork.

Kimmo Pohjonen & Ville Walo: Rautakeuhko / Iron Lung

Idea and creation: Kimmo Pohjonen, Ville Walo
Performers: Kimmo Pohjonen, Ville Walo
Music composition: Kimmo Pohjonen
Set and costumes: Anne Jämsä
Light Design: Antti Rehtijärvi
Sound Design: Heikki Iso-Ahola
Photos: Vertti Teräsvuori
Graphic Design: Milla Ahola
Production: WHS in co-operation with Verkatehdas and Cirko – Centre for New Circus

Duration: 65 minutes
Rautakeuhko premiered on 1st of December 2009 in Vanaja hall, in Verkatehdas, Hämeenlinna, Finland.