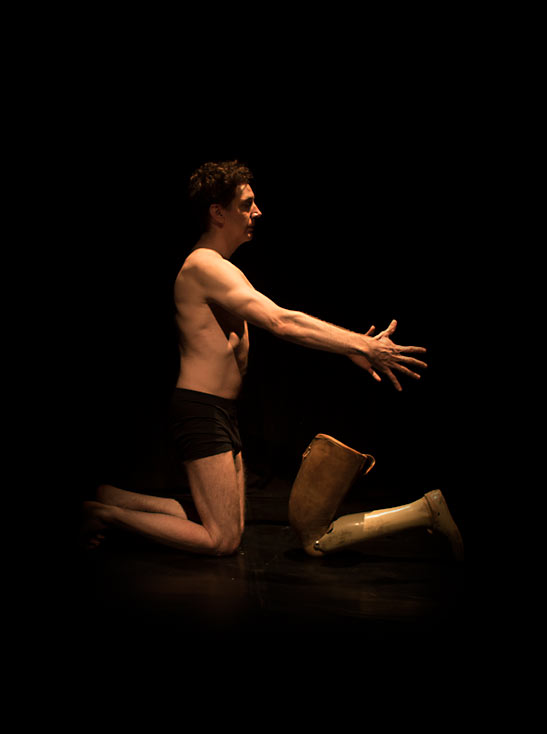 Phantom Limb
The performer has an extra limb. It's so familiar that it might share his heartbeats, and yet uncannily foreign.
The performance situation is intimate and voyeristic as if it happens in a room with paper thin walls that let the voices of neighbours pass through. A solitary human figure reacts to the sounds that penetrate the space like they would originate in himself. He transforms from one speaker to another, listens, moves on tiptoe. The sound is produced in the immediate vicinity, yet in another reality, in a past time, and in a different culture. The foreign language of recorded speech is cut short by sudden sighs and croaks. Invisible horrors and pleasures take over the stage.
The performer balances with agile and shaky steps on the verge of shamelessness. Love and narcissism intermix to concoct a phantom pain that targets an absent beloved as one's own bodypart. Can the yearned other be reached by becoming her? The gaze in the mirror replies through an unrecognizable mask in a stolen voice.
Fragments of soundscape are borrowed from a 1960's Japanese counter culture film. The Funeral Parade of Roses by Toshio Matsumoto is a mixture of passionate fiction and seemingly documentary interviews of characters with diverse gender identities active in the underground and queer subcultures.
This is circus artist Ville Walo's third solo performance. Waloville premiered in 2002 as the first full length juggling show ever made in Finland. Walo's next solo Mortimer in 2010 combined narrative object choreographies with digital sensors and projections. The third leg of the development summarizes the distance travelled in the last ten years toward the yet uncharted territories of performing art.
Premiere in January 2020, WHS Teatteri Union, Helsinki:
17.1.2020, 19:00, PREMIERE, WHS Teatteri Union, Helsinki, Finland
19.1.2020, 15:00, WHS Teatteri Union, Helsinki, Finland
23.1.2020, 19:00, WHS Teatteri Union, Helsinki, Finland
31.1.2020, 19:00, WHS Teatteri Union, Helsinki, Finland
1.2.2020, 19:00, WHS Teatteri Union, Helsinki, Finland