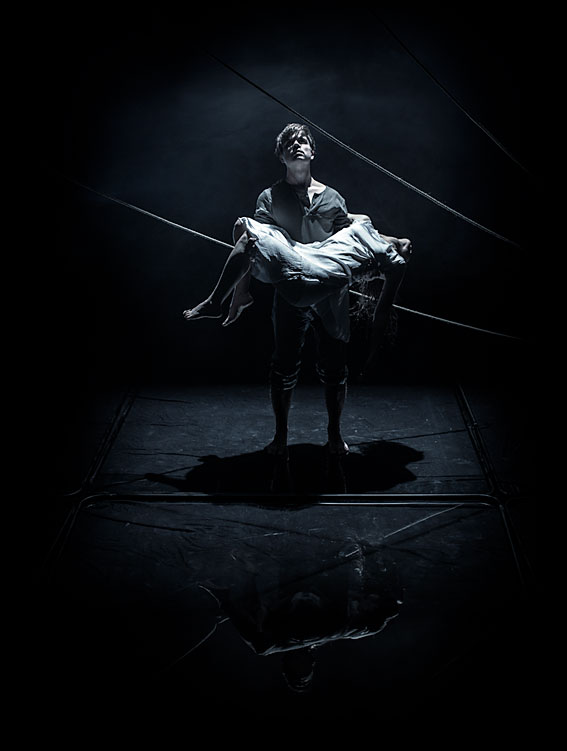 Lähtö
/

Départ

"Ingenious visual trickery" – The Stage

"Lähtö defies explanation in the same way that its performers defy Newtonian physics. The latest offering from Finnish sensation Kalle Nio, the production falls somewhere between circus, magic, visual art and dance – it is physical theatre at its most inventive." – Theatre Bubble

"Kalle Nio – magician, artist and director – has created a piece of contemporary magic that regularly makes one open eyes wide and gape." – Hufvudstadsbladet

"Lähtö mixes up dance, theatre, circus, and magic into a compellingly beautiful imagery, that lingers to haunt the mind for a long time." -Turun Sanomat

"Lähtö rushes over the viewer like a tidal wave." – Demari

"The audiovisual execution is magnificent. Thundering soundscapes and gigantic projections create illusions and delusions. What is "real" and what a mere mirage?" – Helsingin Sanomat

"As in all relationships, there's no beginning or end. All attemps to understand are useless: one simply feels and then stops feeling. This is how Lähtö succeeds in keeping the theatre entranced." – La Nacion

There is a woman and a man, who have a complicated relationship. Confused, they stand on a stage, surrounded by clothes. Feelings and thoughts are expressed through the movement of their bodies – and the movement of the clothes, which have a life of their own.

Lähtö / Départ is directed by magician and visual artist Kalle Nio. The performance brings to the stage a couple that has drifted apart from each other and is now floating in the middle of dreamlike imagery and illusions. Inspired by the work of 19th century magicians' stage illusions, the performance creates a mysterious atmosphere where absurd humor and tragedy alternate. The piece will provide a unique theatre experience in which circus, magic, dance, clothing design and visual arts merge.

Direction: Kalle Nio
Choreography: Vera Selene Tegelman & Kalle Nio
Performers: Kalle Nio ja Vera Selene Tegelman
Costumes: Mila Moisio ja Kaisa Rissanen
Music and sound design: Samuli Kosminen
Lighting: Jere Mönkkönen
Videos: Matias Boettge & Kalle Nio
Production: WHS
Supported by : Les Migrateurs / associés pour les Arts du Cirque, Koneen Säätiö, Suomen Kulttuurirahasto, Taiteen keskustoimikunta and Alfred Kordelinin Rahasto.