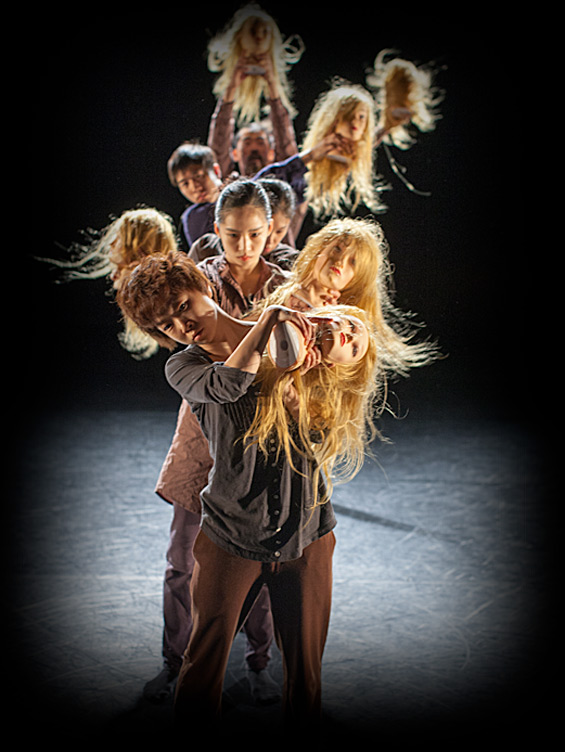 Sungsoo Ahn Pick-up Group & WHS: Double Exposure
Plastic surgery on stage. Moving between dance and object manipulation, the performance reveals the tension between unrealistic ideals and individual human creatures. As a breath-taking kaleidoscope of faces and bodies the performance reflects contemporary reality: in the operating rooms of Korean cosmetic surgeons Asian eyelids and features are bent to fit the form of the global ideal face. Similar to the extent of being almost scary, plastic faces dance on the performer's shoulders in a grotesquely comic way.
The Korean dance group and the Finnish circus company expose themselves to an exceptional cross-disciplinary encounter. The dancers move from dance towards object choreographies, the circus artist addresses the same question from the opposite direction by engaging in the manipulation of live human bodies. In the amazing group scenes the artists juggle with each other's heads.
Korean Sungsoo Ahn has made choreographies for more that 20 years. He is the director of the choreography department in the Korean National University of Arts. WHS is a pioneer of Finnish contemporary circus and one of the most internationally active Finnish performing arts companies. The collaboration project will have its world premiere in Helsinki Festival, and after that it will be performed in Seoul.

Direction: Sungsoo Ahn & Ville Walo
Choreography: Sungsoo Ahn
On stage: Juhee Lee, Sooin Park, Boram Kim, Kungmin Jang, Soyoung Choi, Ville Walo
Lighting design: Jere Mönkkönen
Set and costume design: Anne Jämsä
Sound design: Samuli Kosminen
Production: Sungsoo Ahn Pick-up Group & WHS
In collaboration with: Stoa, SIDance, KAMS, SASH, The Embassy of the Republic of Korea in Finland
Premiere 18.8.2012 at Helsinki Festival
Korean premiere 13.10.2012 in SIDance