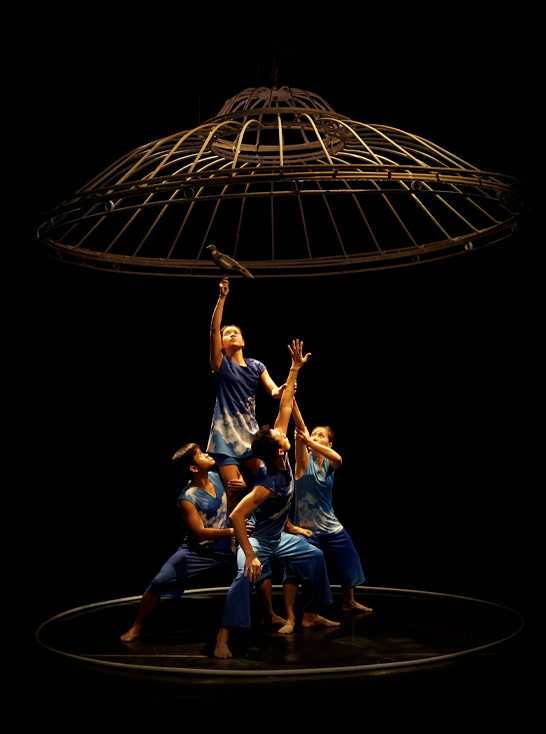 Bird
WHS & Pichet Klunchun Dance Company

The performance keeps the sky as its prisoner, and teaches fake birds to fly.
Doves of peace clash with humans, as species and cultures mix together. Birds are brought on stage by the means of contrasting Asian and European performance traditions. Human society is approached in the performance from the perspective of birds. In a bird's eye view of society, all humans appear similar, despite of their cultural and social differences.
We think our homes are as safe as a bird's nest, closed off from threats luring on the streets of a city. Countries close their borders hoping to create a safe nest for their citizen's, but are we really inside or outside of the pretty little birdcage. The cage may become a prison with high security guards on all exits and entry doors.
On stage the audience will see the performers confined in a birdcage. Liberating birds from a cage and letting them fly freely is thought to be a good deed in many cultures around the world. But for some people to set birds free, someone is taking them captive. Or is it perhaps the audience that is in a cage?
We wish to make this known to you. If anyone
is keeping birds in cages in your courtyards,
we tell you, "Let them go." If you don't obey,
you, in your turn, will be arrested by the birds,
tied up and forced to work as decoys where we live.
Aristophanes: Birds (414 BCE)
(Translated by Ian Johnston)

Bird was created in artistic collaboration between visual theater company WHS from Finland and Pichet Klunchun Dance Company.
Director: Ville Walo
Choreographer: Pichet Klunchun
Music: Lau Nau
Music production & mixing: Lau Nau & Samuli Tanner
Lighting design: Eero Alava
Set & costume design: Anne Jämsä
Costume assistant: Piyaporn Bhongse-tong
Performers: Julaluck Eakwattanapun, Sunon Wachirawarakarn, Padung Jumpan, Pavida Watchirapanyaporn
Photographer: Siriwan Pakmei
Production: WHS & Pichet Klunchun Dance Company
Supported by: Kone Foundation, Finnish Cultural Foundation
Thanks to: Porramet Maneerat
Duration: approx. 60 minutes
Premiere: in Bangkok 2018