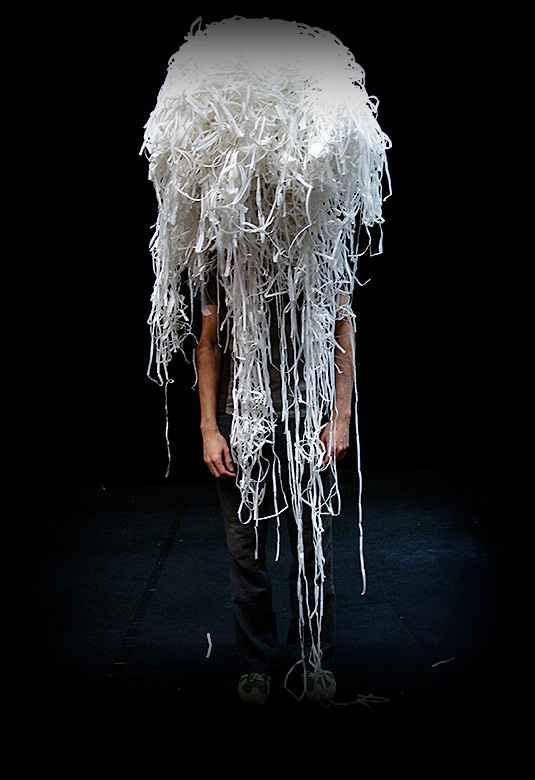 WHS is a visual theatre / contemporary circus group from Finland, founded by visual artist/magician Kalle Nio, juggler Ville Walo and set & costume designer Anne Jämsä.
The productions of the group have been a crucial factor behind the rise of Finnish new circus that has rapidly occurred in the past decade. In the performances of the group new circus has become a very modern, independent and continually changing form of expression, that other arts, especially video image, compliment. In the press the performances have been called avant-garde also in the larger contexts of theatre and art in general. The performances have been on the sharp edge of the latest developments of theatre as well as circus.
The shape and the form of the group has evolved over the years with every project.
Various professionals from different fields of art have been cooperating in different WHS productions for instance:
Ainu Palmu, Anssi Ruotanen, Antti Rehtijärvi, Harry Salmenniemi, Heikki Iso-Ahola, Inês Campos, Jani-Matti Salo, Jere Mönkkönen, Johannes Hallikas, Joonas Pehrsson, Jukka Tarvainen, Jyrki Karttunen, Kaisa Rissanen, Katariina McAlester, Kimmo Pohjonen, Liisa Valonen, Lotta Karhuvaara, Luis Sartori Do Vale, Maarit Utriainen, Marianne Lagus, Matias Boettge, Meri Ekola, Micke Rejström, Mikko Linnavuori, Mila Moisio, Milla Ahola, Miika Pelkonen, Netta Lepistö, Olli Vuorinen, Reija Tapaninen, Salla Hakanpää, Samuli Kosminen, Sungsoo Ahn, Susanna Keski-Kohtamäki, Taneli Rautiainen, Teemu Liakka, Tom Hakala & Vera Selene Tegelman.
The circus group has grown known for the juggling style of Walo that balances on the boundary surfaces between juggling and puppetry, and the scale of expression of Nio that reaches from visual arts to magic. The group has taken their performances across more than 30 countries, visiting over a hundred world-famous festivals, circuses, theatres and puppet theatres in Belgium, Croatia, Czech Republics, Denmark, Estonia, France, Germany, Greece, Hungary, Israel, Italy, Latvia, Luxembourg, Netherlands, Norway, Poland, Portugal, Russia, Serbia, Slovak, Spain, Switzerland and Ukraine, as well as Argentina, Brazil, Canada, Columbia, Mexico, USA, China, Macau, South Korea, Taiwan and Japan.
WHS is based in Teatteri Union, an old cinema theatre in the center of Helsinki. Teatteri Union's program includes visual performing arts, audio visual shows and all kinds of cinema. WHS also offers residency and rehearsal possibilities for selected artists.
WHS and its work with Teatteri Union has been awarded with State Award for Multidisciplinary Art and Helsinki Cultural Prize.
WHS has been supported by: Ministry of Education and Culture, Arts Promotion Center Finland, City of Helsinki Cultural Office, AVEK, Finnish Cultural Foundation, Kone Foundation, Alfred Kordelin Foundation and CircusInfo Finland
Kalle Nio is a visual artist and a magician from Helsinki. In his work he examines different kinds of expression possibilities provided by video image and its capacities related to time and space.
Ville Walo is a pioneer, innovator and reformer of contemporary juggling, who in his work explores new juggling techniques and physical and spatial movement in juggling. Walo has expanded the expression range of juggling towards visual theatre and object theatre.
Anne Jämsä is a costume and set designer. She is interested in developing visually expressive ways of using objects on stage.